Vistage Day 2017 is an exciting full day event with morning Golf Challenge 2017 and afternoon CEO Tea Talk session with opportunities to connect with Vistage members and Chairs from their Malaysia/Singapore community fostering members' networking and providing value-add on a topical subject.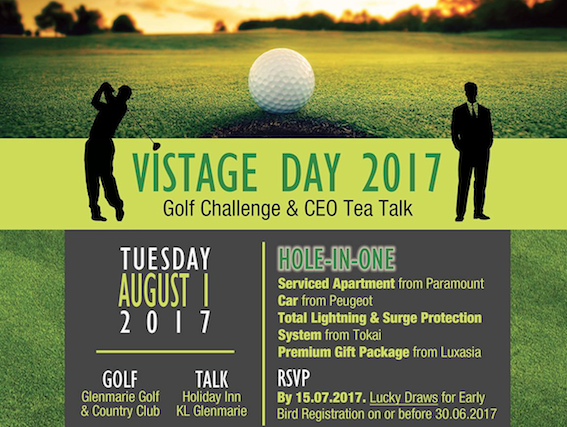 InternetNow are proud to participate with Linexcom in this event showcasing Hornetsecurity ATP (Advanced Threat Protection) to protect companies from Ransomware outbreak.
Hornetsecurity Advanced Threat Protection detected the zero-day ransomware from its first appearance by using a dynamic pattern analysis in its sandbox and put the malware into quarantine. Therefore it was able to detect and prevent the dangerous ransomware attack from the first email onward. Keeping your company save from Ransomware outbreak.
Protection against ransomware – Hornetsecurity ATP uses a sandbox engine to analyze the behaviour of attachments when being opened and filter out the email in the event of a positive find. Hornetsecurity also "freezes" suspicious emails.
Protection against blended attacks – Blended attacks combine different angles of attack to be successful. The email can, for example, include a document that in turn can hide a link to a download page containing malware. Hornetsecurity ATP combats these types of attacks by means of URL scanning and URL rewriting as well as sandboxing and freezing.
Protection against targeted attacks – High-ranking employees of companies are often the target of individual attacks, so-called spear phishing, whaling or CEO fraud. With Hornetsecurity ATP, the internal communication between particular persons in the company is specifically examined for such attacks in order to prevent abuse through identity spoofing.
Protection against digital espionage – According to a survey conducted by the IT industry association Bitkom, more than half of German companies have already been the victim of data theft, sabotage or espionage. The Hornetsecurity spy-out forensics system detects both known and completely new patterns for spying out information. This system reacts instantly and alerts you before information needing protection leaves the company.
Notification of attacks  – The Hornetsecurity real time alerts notify you of acute attacks on your company and allow the rapid initiation of further internal measures and legal procedures. The system of notifications provides detailed analysis results for this purpose.
Detect and prevent highly complex and sophisticated attacks – effectively and in real time.
[gdl_gallery title="vistage-2017″ width="100″ height="100″ galid="1″ ]