Join The Fight and Break The Chain of Infection
With vaccination for COVID-19 expected to be ready in a year's time, cohabiting with the virus is the new norm. In light of this, a collective effort is needed to prevent an outbreak in commercial and public spaces. Organizations can play a big part by taking active measures and installing thermal screening cameras in their respective environments.
COMMERCIAL / PRIVATE SPACES
---
ThermalNow!
Contactless Thermal Screening and Registration System (for Employees & Visitors)
With ThermalNow! deployed, organizations can automatically record and store the temperature of their employees/visitors on a daily basis – including to assist with payroll if required. Suitable for Employees & Visitors
COMMERCIAL / PRIVATE & PUBLIC SPACES
---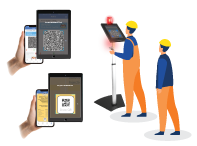 MySejahteraScanner
Automatic MySejahtera/ SELangkah Vaccination & Risk Profile Scanner
Prevent high-risk employees/visitors from entering your premises. Thus, providing a safer workspace for all
PUBLIC SPACES
---
Dali Camera
Mass Thermal Screening of Human Traffic
Screens large number of human traffic quickly without the need to register individuals, to arrest an outbreak in public spaces. Suitable for Mass Public