Thermal Camera for Public and Commercial/Private Spaces
The Malaysian government released 9 Standard Operating Procedure for various businesses to implement during the Conditional Movement Control Order (CMCO) period, one of which is recording details of employees and visitors after screening their body temperature at the entrance of premises, daily.
With vaccination for COVID-19 expected to be ready in a year's time, cohabiting with the virus is the new norm. In light of this, a collective effort is needed to prevent an outbreak in commercial and public spaces. Organizations can play a big part by taking active measures and installing thermal screening cameras in their respective environments.
Join the fight and break the chain of infection.
Commercial/Private Spaces
Factories, Office Buildings and etc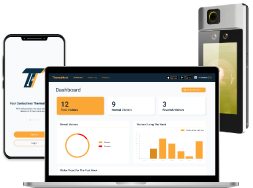 ThermalNow!: Contactless Thermal Screening and Registration System (for Employees & Visitors)
With ThermalNow! deployed, organizations can automatically record and store the temperature of their employees/visitors on a daily basis – including to assist with payroll if required.
Suitable for Employees & Visitors